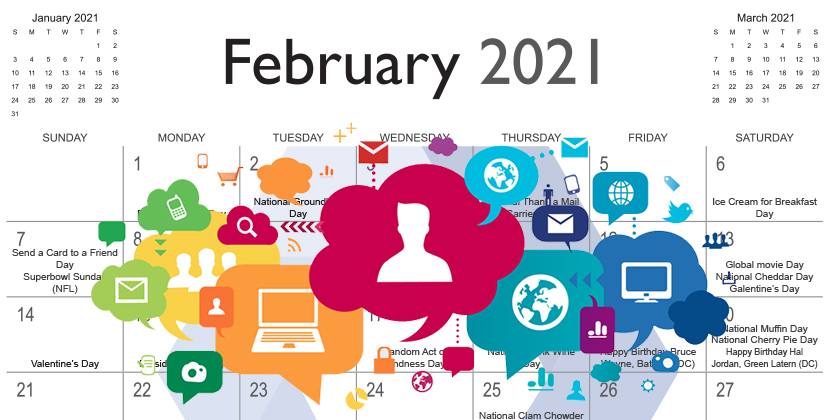 Marketing Ideas for February 2021
Here is the February edition of notable marketing dates. Remember to take a look and start planning well in advance. Get your copy ready and checked, get your materials designed and proofed, and set those social media posts to auto publish. Don't forget to note the Federal holidays and plan banking and mail services accordingly.
Below is a printable calendar for February 2021. Hopefully this easy reference can help you plan events, sales, and marketing. You certainly don't need to create something for every day. Choose the dates that make sense for you. Every business is different.
1st – Dark Chocolate Day

A day set aside to celebrate the deliciousness of Dark Chocolate and how it is a slightly healthier alternative to it's cousin Milk Chocolate. This is a great day to give away small candy or work with a local chocolatier for some cross promotions.

2nd – National Groundhog Day

Will we see six more weeks of winter or not? While it means nothing except superstition and good fun, it sees an uptick on social media and an easy way for engagement with your customers. Only Punxsutawney Phil knows if his magic of prediction is real or not.

4th – National Thank a Mail Carrier Day

Year round, you have been receiving USPS, UPS, Fed-Ex and possibly some Amazon Logistics or even DHL. Today is a day decided to the delivery drivers that get the products to your store, marketing materials to you, and sending out all of your e-commerce orders.

6th – Ice Cream for Breakfast Day

Offering a great breakfast ice cream recipe for this day is a great ice breaker for social media and engagement. Holding an ice cream event in store doing some cross-promotion with a local ice cream shop can be wonderfully delicious also.

7th – Send a Card to a Friend Day

While this holiday is specifically designed to send an actual, "Thinking of you" greeting style card. It's very possible to bend the holiday to meet the needs of your business here. Do you own a Pokemon store? Mail every customer a stamped "THANK YOU" energy card with $5 off any purchase on this day. Every customer that walks in gets a promotional

card

that is good for a percentage off next visit. There is definitely room to be creative here if it fits your business.

7th – Superbowl Sunday (NFL)

While some may argue this is or isn't a holiday, it is an important date to remember as this is the one football game per year that most people do actually watch. If you can do some creative advertising or talk to your local lawyer about paying to show the game in your business, take a look into it if you think it would fit.

9th – National Pizza Day

A most glorious day. PS. I love Pizza. Most likely one of the easiest cross-promotion days for the non-food type businesses. For the food type businesses, adding a pizza for the day or making a special on pizza toppings should be easy marketing. If big chains get on board with the day, it is easy to ride the coattail of their millions of dollars spent to pick up some extra revenue. 

11th – National Make a Friend Day

A push to learn more about each other and possibly become friends or at least understand differences. There is a lot of possibilities here for marketing, events or at very minimum social media engagement.

13th – Global Movie Day

This day normally coincides with the Oscars, for 2021, it does not due to Covid-19. This is a very good social media engagement and in person engagement day. Remembering what movies were the favorites in the past year, predictions on who will win an award. 

13th – National Cheddar Day

While I suspect this is a stronger holiday in the middle of the country, cheddar is a very popular cheese. Having a day decided to cheddar is a great day to feature anything with cheddar cheese and have it as a win. Add a cross-promotion to a local cheese maker or maybe cater nachos with cheddar on them and make a great event out of it. 

13th – Galentine's Day

Galentine's day was originally created in the show Parks and Recreation (ep 107 "Galentine's Day"). The idea of it is for you to celebrate your friends that are girls and have a girls day together. Celebrating for the entire year of your girl friends cheering you on, building you up, or just being there when needed. This is a pop culture event and still evolving. 

14th – Valentines Day

Romance and couples dominate this day. Spring is around the corner and love is in the air. In today's modern world, Valentines day also includes showing the people in your life that you most value and how much you love and care about them. As more major brands embrace this path, their marketing will change as well. This will allow you to ride the coattails of their millions of dollars in ad spend. This is a great day for couples, co-op, or team based games to demonstrate or to feature. 

15th – President's Day (F)

This is a major retailer sale weekend. Most advertising will dominate in lines such as, "Save big this President's Day Weekend Sale!" If you don't do sales often, this is one of the one weekends that would be good to have a clearance or goodriddence table or sale. Most customers are overwhelmed with big box store advertising for a sale and are primed and ready for those deals. Also remember that this is a long weekend, make sure you are ready for petty cash or banking for that weekend. Also, some school systems use this as a winter break/spring break. If your business is in one of these areas be ready for an influx of customers. Look at your previous years sales and staffing. 

16th – FAT Tuesday aka Mardi Gras

Mardi Gras is the party before Ash Wednesday. It has an extremely long history that all roads lead to New Orleans. Many restaurants and late night establishments host some sort of party. There is room to host a non-alcoholic party of gaming or friends.

17th – Random Acts of Kindness Day

"I was a recipient of kindness but more glad to be a contributor!" (Unknown) Giving kindness is free and makes everyone feel good. This is an excellent way to engage on social media with a hashtag challenge. There is also a lot of room for a marketing campaign such as an unannounced give away every time someone walks in, sticker, pen, or pin.

18th – National Drink Wine Day

For the alcohol licenced businesses, here is a slam dunk easy way to feature wine. Check out a local winery for an additional discount on entra cases and go in. For the non-alcoholic businesses, first, check with your local departments, insurance, and legal council. Second, Paint and take? Paint and Sip? If you are unable to do that, possibly featuring a favorite wine retailer in return for them featuring you as a "great idea to drink wine with" Wine has taken on it's own culture and popularity that it is worth the effort to explore it. Please, always ask your legal council before adding any alcohol to your business. 

19th – Happy Birthday Bruce Wayne aka Batman (DC)

20th – National Muffin Day

Muffin's make a great breakfast, brunch, lunch, or snack option. Muffin's are available pre-packaged for sale at club stores such as Costco or Sam's Club. 

20th – National Cherry Pie Day

Same as the other food days as suggested before. It's possible that there is some snack size, individually wrapped cherry pies available to sell for our non-restaurant retailers. Food retailers should be able to whip together a special for cherry pie.

20th – Happy Birthday Hal Jordan (Green Lantern) (DC)

Happy Birthday Hal Jordan!

22nd – National Margarita Day

This holiday is not for everyone. In New York, liquor requires a separate licence and insurance then wine or beer. Check with your legal counsel to verify any legal needs if you are looking to have a sample, tasting, or outside vendor coming into your business. Liquor is insanely expensive for the overhead due to liability. I would avoid this day if you are family friendly or don't serve liquor. 

24th – National Tortilla Chip Day

This day is all about the chip but the best thing to do is show off the best things to dip with a tortilla chip such as salsa, chile con queso, or guacamole.

25th – National Clam Chowder Day

This is more of an East coast or Northeast event in popularity, even though clam chowder is served everywhere. It is a day to start engagement on social media on which is better, Manhattan or New England? 

25th – National Chili Day

Chili is a food that has spawned competitions all over. Share a recipe or ask for people's favorite recipes. 

27th – National Retro Day

Remember back when? Anything before modern times is up for a social media post or engagement. Sale on retro video game systems, or a bonus to trade ins on this day works easily as well. There is a lot of room for creativity.

28th – Happy Birthday Kal-El (Superman) (DC)